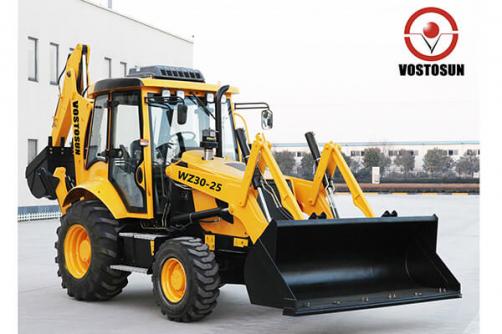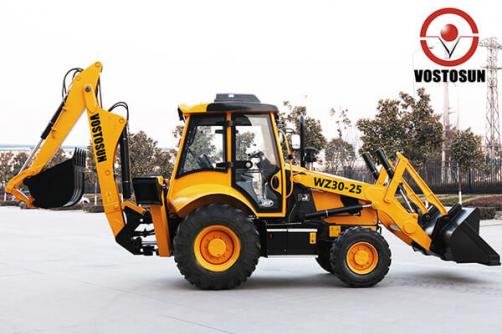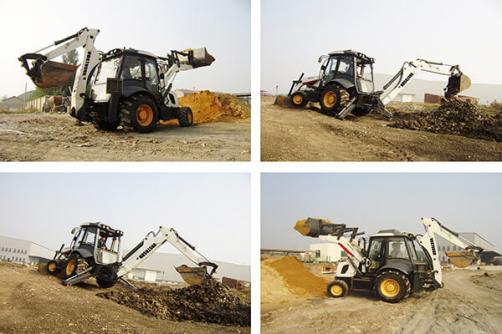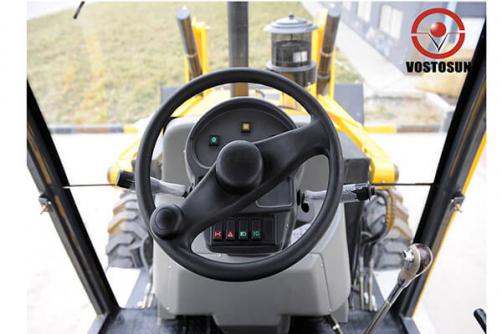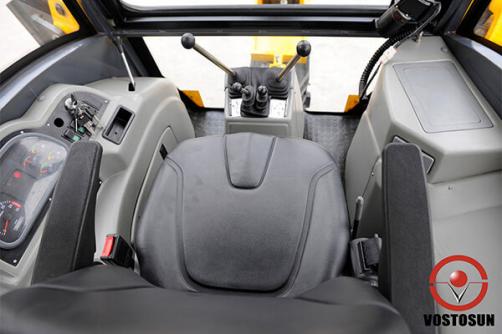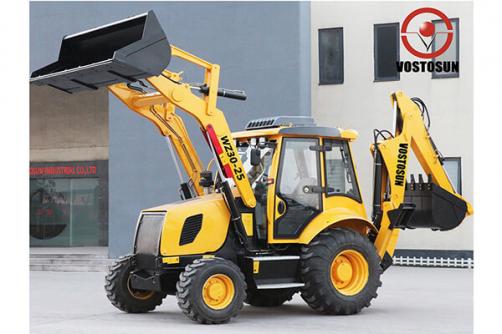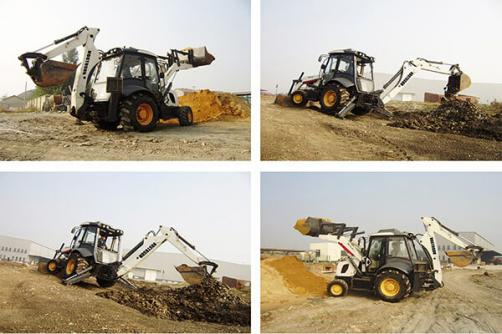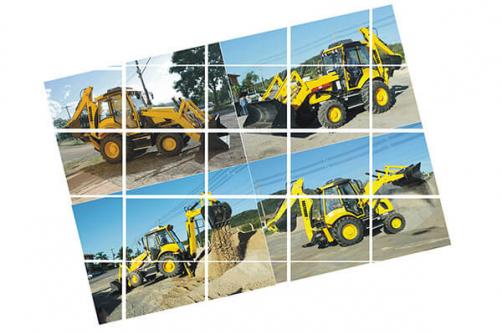 BACKHOE LOADER VSL3025
Weichai Engine 95hp, CUMMINS Engine 112hp
CARRARO axles & Transmission
Loader Bucket 1.0m3, Backhoe 0.2m3


BRIGHT SPOT OF PRODUCT
MAIN PRODUCT PARAMETER
1.Engine: Wei chai as standard, Dongfeng Cummins as option.
2.Front Axle, Rear Axle, Transmission case: CARRARO
3.4WD as standard, 2WD as option.
4.Hydraulic pump: Made in China. PERMCO pump as option.
5.Enclosed driving cab with Air Conditioner, heater as option.
6.Mechanic control as standard, pilot control as option.
7.Loading bucket: 1cbm with blade as standard, 4 in 1 multi-purpose loading bucket as option, bucket teeth as option.
8.Excavating bucket: 0.3 cbm
9.Hydraulic output pipe at excavating boom as standard
10.Hydraulic output pipe at loading boom as option.
11.Low temperature start device as option.

1.Engine
Engine Model
WEICHAI WP4.1G100E311
WEICHAI WP4G95E221
CUMMINS 4BTA3.9
Type
Four-stroke, Direct Injection type, Turbo Charge
Rated Speed rpm
2200
2200
2200
Rated Power hp/kw
100/74
95/70
112/82
Peak Torque N.m
395
380
460
2.Transmission System
| | |
| --- | --- |
| Transmission | Four gear synchronization, electric-hydraulic control forward/backward. Switch, shift and loading control handle have clutch splitting key |
| Front Axle | Swing turn, oscillating angle is 22° |
| Rear Axle | Braking axle with free-maintenance wet-type |
| Min. Ground Clearance | 335mm |
| Driving Break | Electric-hydraulic control, built-in wet-type brake block |
3.Loading Operation Specification
| | |
| --- | --- |
| Rated Bucket Capacity m3 | 1.0 |
| Max. Dumping Clearance mm | 2650 |
| Max. Dump Reach mm | 1220 |
| Dig Depth mm | 218 |
| Drawback Angle At Ground Pos. | 40o |
| Bucket Upward Angle At Max. Working Height | 45o |
| Max. Breakout Force KN | ≥40 |
| Rated Lifting Force KN | ≥25 |
| Rise Time s | 5.1 |
| Fall Time s | 4.9 |
| Tilting Time s | 0.9 |
4.Excavating Operation Specification
Standard Dipper
Extendible Dipper
Rated Backhoe Bucket Capacity cbm
Extend
—
0.2
Retreat
0.3
0.2
Max. Excavating Depth
Extend
—
5519
Retreat
4171
4357
Max. Excavating Force
Extend
—
>57
Retreat
>57
>57
Max. Excavating Radius
Extend
—
6728
Retreat
5463
5597
Max. Dump Height
Extend
—
4916
Retreat
3860
3950
Max. Outreach From Mid. Of Rear Axle mm
Extend
—
7826
Retreat
6561
6695
Max. Outreach At The Max. Dump Height mm
Extend
—
2179
Retreat
1135
1466
Turning Angle
180o
180o
Feedback from contact with us
Related Product